Simple Ways to Use Technology to Connect with Your Grandkids

Simple Ways to Use Technology to Connect with Your Grandkids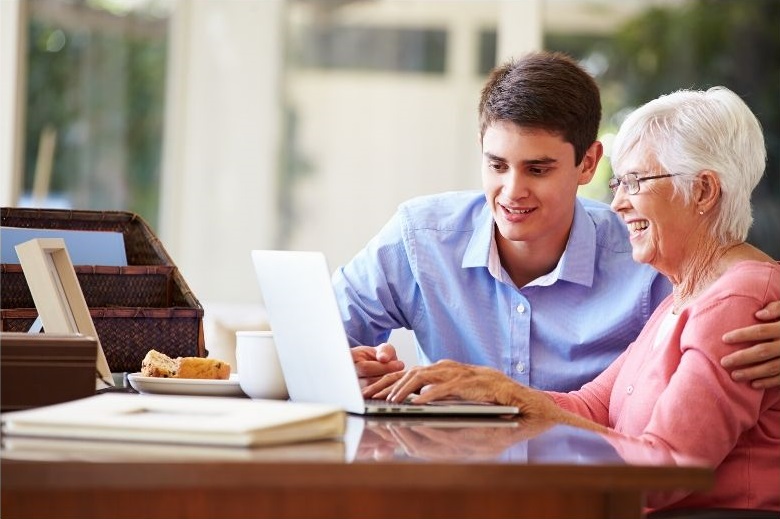 Communication is an ever-present constant for youth today, from socializing with friends to expressing their own creativity- communication is key. And you could be missing a lot by avoiding these easy ways to use technology to connect and stay in touch with your grandkids.
So how can you as a grandparent reach your busy grandchildren in ways that are easy for you both? It may not be as tough as you thought.
Use Technology to Connect
Digital Communications
One of the most prevalent ways younger generations communicate today is through texting or "instant messaging." If you haven't invested in a smartphone or tablet, now may be a perfect time! You can use the messaging apps on your device to send greetings, share photos, or even start group conversations. Want to win the grandkids over, even more, express your feelings in emojis. Your willingness to speak to them in their native digital tongue will impress them and technology to connect is simple.
You can also check out apps like Facebook Messenger, Instagram or WhatsApp to see what your loved ones are up to.
Not only are these devices a great way to stay in touch with family and friends, but there are endless uses for these handheld devices for people of all ages.
Play Games
If your grandkids are always with a device in hand, keep them engaged with games. Some great apps you can play include the following:
Words with Friends is a digital version of the well-loved favorite, Scrabble with a few differences. One difference more traditional players may not love, no challenging played words. Guess you can leave the Scrabble dictionary on the shelf for this matchup.
Trivia Crack has questions that range in topics from science & art, to history & pop culture. Much like trivial pursuit with colorful animations and addictive gameplay.
Letterpress is a challenging word game that requires a strategy to protect and claim letters on the board. Great for cognitive skills and vocabulary, and of course friendly competition.
You can feel good about playing these games with your grandkids because you're both keeping your brain active and improving your cognitive health.
Send Gifts
What grandchild doesn't enjoy being spoiled by their grandparents? While it isn't the most necessary use of technology for connecting with these young family members, they will likely be impressed with your generosity and digital skills.
Send electronic gift cards. Whether it's a birthday celebration or just a little bit of encouragement, you can send your grandkids warm wishes in the form of an electronic gift card. Many retailers offer this option by allowing you to purchase a gift card in the amount you choose and send the unique code by text or email.
Sending cash or checks through the mail can be risky. Consider a cash app like Venmo or Paypal. These apps connect with your own checking account and send it directly to your family or friend as long as you have their unique username or associated email address. You can send money from the app directly to your grandchild anytime you want. They can then use them at certain retailers or deposit them into a checking account of their own. That means no worrying about the gift getting lost in the mail.
Confident Living is a continuing care at home membership program, focused on helping you remain active and independent as you age in your own home. We serve the greater Cincinnati area. For more information, contact us online or call (513) 719-3522.