How to Declutter Your Life in 10 Easy Steps

How to Declutter Your Life in 10 Easy Steps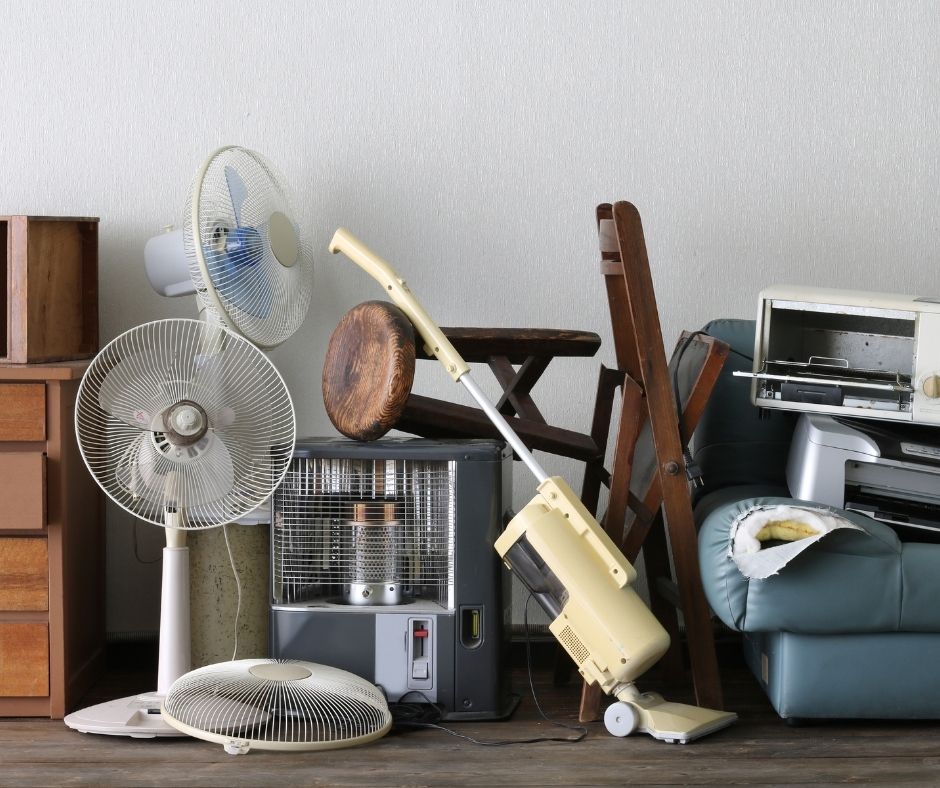 Is your home starting to look like something on "Hoarders?" Perhaps, it's not as bad but just a little cluttered. Either way, decluttering is a great way to free up space and organize your place. Though the task of decluttering can be stressful, the result improves more than just your interior aesthetic. Not only is clutter associated with life dissatisfaction, but also clutter can stimulate the release of cortisol (the stress hormone). So, learn today how to declutter your life and live better.
How to Declutter Your Life
Here, you will find tips and tricks to declutter your life in several different areas.
How to Declutter Your Life Digitally
Though your digital footprint is less visible than other types of clutter around the house, a cluttered phone or laptop still takes up valuable storage.
Back Up Everything Stored Digitally
Backing up important documents and photos is a great way to free up space on your devices. It also helps to ensure that your documents and memories are safe in the event of a crash. Here, you can use cloud storage.
Try to take a little time to back up your files on Google Photos, iCloud, or another paid cloud service with ample storage space.
Delete What You Don't Need
Take a moment and look at the apps on your phone. When was the last time you used some of them? Deleting what you haven't used in the past few months is a good way to quickly declutter your device. Similar to how you would throw away trash, you can delete what you don't use to free up some space.
Organize Your Files and Apps
Now that you only have what you use on your devices, it's time to organize what's left. How you choose to organize things like apps on your phone is up to you. You could try organizing them by certain categories like "finance" or "fun." However, you choose to organize your device, be sure to think about whether this streamlines your use of those items. 
How to Declutter Your Home
You spend a lot of time in your home and that atmosphere can really affect your mood. If you have a lot of clutter, it can prevent you from feeling as good as possible in your home environment. By reducing the clutter in your living space, you can improve your mental health as well as make your space more usable.
Take Out the Trash
Before you can organize the things that are important to you, you'll need to get rid of the stuff that isn't. To start this process, walk around your home and mentally note problem areas. Go back through with a trash bag focusing on the areas you identified and start filling the bag with what you don't need. Whether it's knick-knacks or papers, be ruthless when clearing out your space.
If you have a lot of papers with sensitive information, be sure to shred them before discarding them. Also, keep your eyes peeled for items that can be donated or recycled. Keep these items in a separate bag or pile.
Store Seasonal Items
It's fun to decorate for the holidays, but we all know that one person on the street that keeps their lights up too long. Well, the same is true for the inside of your home. Be sure to clear up your decorations in a timely manner to avoid creating year-round clutter.
Store Specialty Cookware
You might not always use that big casserole dish, but it's perfect for the few times of year you do. If your cabinets are cluttered, try taking your rarely used items out of the space of commonly used items. If you only use your crockpot on Thanksgiving, you could probably store it in the attic or basement to keep your kitchen tidy.
Get Rid of Expired Things
It's expired. You don't need it. Simple as that.
Go through your bathroom and kitchen as these are the areas most likely to collect expired items. Go through your cosmetic items, medicine cabinet, kitchen pantry, and freezer to get rid of anything that has expired.
Declutter Your Habits and Relationships
From your routines to your relationships, there is social and mental clutter that can build up quickly.
Conduct a Calendar Audit
We've all agreed to social activities when we were in a good mood, only to change our minds later on. If your social schedule feels too full, it may be time to cut some obligations out of your calendar.
By being mindful about your time, you'll not only cut down on activities that don't bring you joy but also increase doing the things you enjoy.
Find a Planner That Works for You
Life is busy and you need to plan accordingly. You need to keep your social life, finances, and habits in order. It helps if you have a planner that works for you. From journaling to calendars, there are a variety of ways to keep track of your plans. Whatever planning method works for you, just be sure to keep up with it.
Set Goals and Work Backwards
The best way to eliminate clutter from your life is to sit back and consider what you really value. Where do you want to be in the next few years? The next ten?
Start planning what you want to accomplish and work your way backward to discover how to get there. Come up with three measurable steps and when you can take steps to act. When you know where you are headed, you can more easily create a roadmap.
It's your life, don't let the clutter build up.
Looking to learn more about decluttering your home? Click the icon below to download your FREE copy to Unlock the Power to Declutter: The Definitive Guide on How to Start so you can get cleaning!
Confident Living is a continuing care at home membership program, focused on helping you remain active and independent as you age in your own home. We serve the greater Cincinnati area. For more information, contact us online or call (513) 719-3522.